Rainger FX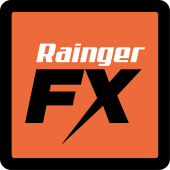 Set up by David Rainger in 2009, Rainger FX is a north west London-based guitar effects company, designing and building new kinds of effects pedals for today's electric guitarists.
Rainger aims to provide new sounds inspired by music around right now, with a totally distinctive visual style and use. He figures "Pedals should sound great, be totally reliable, and be fun". David likes LEDs a lot - and a visual representation of the sound (from a basic on/off indicator upwards) is very important to him.
For many years David wrote a monthly column where he interviewed guitar techs from big groups, finding out how top guitarists got their sound and what they were after. He also did a monthly survey of best selling gear, phoning round UK music shops, finding out what people liked. For a while he'd been having pedals built from scratch or customised, and in the 2000's he started to make his own; just one-offs for his own personal use, but after a while he realised other guitarists would be interested in using them too. So he made a bunch of them...
Pages