About
Axe...and you shall receive started out as a hobby of sorts and has grown into one of the world's larger Guitar-related Gear Retailers.  We are a fiercely independent, small business selling High Quality, Vintage and Boutique guitar gear. Owned and operated by Scott Hager, We specialize in vintage and boutique guitars, amplifiers and guitar effects pedals. Based in Canada, We are lucky enough to have loyal customers in almost every country in the world. Our interest lies in doing whatever we can to help you find the elusive tone that you desire out of your guitar or bass.
I like to think that the fact that we give a damn sets us apart.  Whether you are selling millions of records a year or selling out your buddy's basement booze can party, We take your tone seriously.  We are very picky about the product lines we carry. They must sound great and have roadworthy reliability with the right vibe. I am very impressed by all of the manufacturers we deal with.  Many of them, I consider family.
______________________________________
Read on at your own risk...
So...My name is Scott and I am a guitar gear addict.  This addiction developed a life of it's own to some extent and prompted me to toss aside years of education and a safe and fairly lucrative career as a Professional Engineer.  Not surprisingly, I have always been somewhat obsessed with Guitar Gear and music in general.  
I was born in 1968 near the end of an incredible decade of music. During my formative years, I was unmercifully bombarded with disco and crummy AOR station pseudo-rock. As a defense mechanism, I discovered early recordings of the Beatles, The Kinks, The Yardbirds etc. I clung to them like a life raft in the sea of fecal matter that passed for music during the mid-70's. Until punk rock happened, I truly believed that rock and roll music was dead and beginning to rot.
I love music of all sorts. I love Rock n' Roll (or should I say RRRAAAAWWWKKK!), Punk Rock (esp. older and newer Hardcore), Metal (Manowar rules!!! Yeaahhhh!), Garage Rock, Blues, Country Blues, Soul (esp. Motown and old Northern Soul!!)... You name it I dig it. The only stuff i don't really dig is bad Hair-farming Cock-Rock Metal, Nouveau Country Nonsense and Classical chamber music type stuff.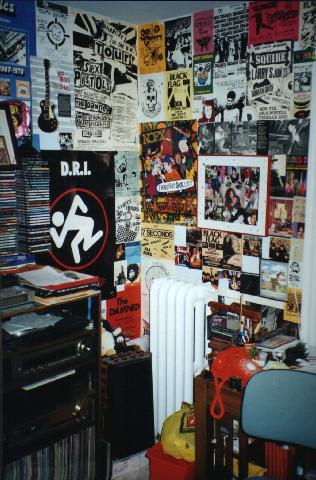 Here is a nostalgic shot of my old gear room/office.  Dig the goofy Orange Phone!  Since moving out of our old place, I no longer have a dedicated gear room.  Instead, much to my wife's chagrin, I have an entire 2400 square foot basement that functions as office, warehouse and demo space.
Some of the absolute best live shows I have gone to corresponded with these Weekend-long stags that me and my buddies used to organize any time one of us was getting married.  Later on, these lost weekends were referred to as "Baby Showers" once there was no one left unmarried among us.  We usually were well overserved on the Fri. followed by a concert on the Sat.  I am into my fifth decade on this earth so I've had ample opportunity to see a ton of great bands, here are just a few:  Hamilton, Ontario's own world infamous Forgotten Rebels (probably a dozen times), Jayne County and the Electric Chairs, Goo Goo dolls (my singer and i are the reason that they now refuse to play Hamilton!!!! Long story!!!), Mighty Mighty Bosstones, DOA (numerous times!!), Teenage Head, the Specials, English Beat, NOFX, Bad Religion, Face to face, Problem Children, Misfits, Stiff Little Fingers, Wet Spots, Chemical People, Big Drill Car, Doughboys, Descendents/All, Dayglo Abortions, The Mr. T. eXperience, MDC, Toxic Reasons, Straw Dogs, Killjoys, Mojo Nixon and the Toad Liquors, Dead Milkmen, Billy Bragg, Anthony Meynell & the Squire, Gwar!!!, Asexuals, Rancid, Silverstein, Alexisonfire, Cancer Bats, Minus the Bear etc.
Awhile back, I played guitar as loud (loud, indeed!) and as fast as I possibly could in a just-for-laughs-and-beer Band called Nasty Phlegm Build-up.  The Idea originally was to cover only Stiff Little Fingers songs and call ourselves Rigid digits. We worked out about 6 SLF tunes and started branching out. We covered the Damned (neat,neat,neat), Adverts (Gary Gilmore's Eyes), Circle Jerks (@#$% hits the fan and Coup d'etat), Misfits (Where eagles dare) and whatever else came to mind. Ridiculously loud and as fast as possible was definitely the main idea.  In fact, personally i was often left with a strange hollow feeling if the drummer did not pass out during at least one song per night. It was a great way to blow off steam and keep from going POSTAL on co-workers and friends.  Hopefully, someday soon we can re-group and tackle some new songs including selections by the Ruts, Sham 69, Peter and the Test tube babies, Black Flag and the Nils.
I didn't pick up guitar until my 2nd year of university at McMaster University in Hamilton, Ontario (1988, if memory serves...).  It was an ideal way to procrastinate and did not cut into my important boozing schedule. Looking back, It was probably sort of a miracle that i got my degree (Bachelor of Electrical Engineering & Management '92). Like a lot of people i seemed to hang around with in school, i was much too quick to toss school out the window in favour of any sort of stupidity (Punk Rock shows, Basketball, misc. partying etc.). 
Now, We have a pretty decent life here.  Decent house, cars that rarely break down, beautiful wife, great kids, I am my own boss etc. All that considered, I have to admit that every time i see a really great band, I feel like tossing it all in to form the ultimate ultra-volume punk rock massacre. Oh well, I'm sure we would just get pawned off as old guy poseurs since punk rock hit the mainstream long ago.
Please feel free to send me your life story, any triumphant band stories, any stuff you have released and general info about yourself. It seems a little less impersonal if you sort of know who you are dealing with.