Disaster Area Designs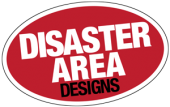 Disaster Area Designs began unofficially in 2010, when engineer Matthew Farrow designed and built a MIDI controller to operate his Line 6 M9 pedal. In a few months, Matthew was sending do-it-yourself circuit board kits all over the world for adventurous players to build their own controllers. By early 2011, the DMC-2, DMC-4, and DMC-6 Disaster MIDI controllers were available for the M9 and M13 pedals.
When Strymon released their flagship Timeline delay pedal, Disaster Area took up the challenge to design a compact MIDI controller to expand its capabilities. The DMC-3 was born. Disaster Area has expanded its range of controllers to offer many custom options, including firmware for a wide variety of pedals and rack units.
In October 2012, Disaster Area began offering the DPC-5 Disaster Pedal Controller, integrating the same easy-to-use MIDI controls with a 5-channel pedal switcher.
Disaster Area began shipping the SMARTLoop in June 2013. The SMARTLoop is a sub-compact stereo loop switching system with full MIDI integration, and is the first pedal in the new SMARTPedal series.
Since 2013, the pedal line has expanded to include the 8-loop DPC-8EZ, the innovative SMARTClock, and a revamped "Gen 2″ MIDI controller series. Thousands of Disaster Area controllers and switchers are in use all over the world.
In 2015, Matthew Farrow launched a line of effects pedals in honor of his late brother. Alexander Pedals feature great tones, and we donate a portion of every pedal sold to childhood cancer research.
Disaster Area Designs is located in beautiful Raleigh, North Carolina.
Pages