Jersey Girl Homemade guitars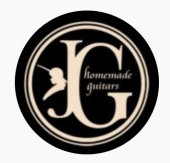 JGHG is the guitar and effector brand of a 3 luthier team (Kaz, Akiko & Eiko).
They have been Composing guitars & growing veggies since 1991. They are truly lovely people building some of the most beautiful things on this earth. We are very proud to represent them here in Canada.