Xotic Pedals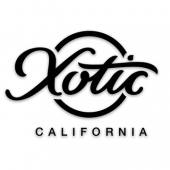 100% Hand Build in USA with the finest quality parts for extraordinary durability and functionality. Two easily accessible foot switches give musicians freedom to choose at any moment of their performance and a shock resistant aluminum diecast enclosure ensures that it can operate even after the roughest gigs and travels.
100% analog circuit designed to capture the slightest nuance of sound, constructed with premium quality transistors, carefully selected and thoroughly tested by our engineers, provides musically and artistically satisfying sound.
We have carried Xotic's pedals for ages and they are the choice of an endless array of pro players. Super reliable and super toneful!
Pages