Ruokangas Guitars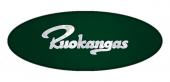 It is with great pride that we carry the Ruokangas guitar line here at Axe...and You shall Receive. Simply put, these instruments are pure magic in terms of tone and playability.
Ruokangas Guitars was founded in 1995 by luthier Juha Ruokangas. He Began repairing guitars in the late 80s and proceeded to study lutherie under guidance of the finest Finnish luthiers in the early 90s. Juha formed a company and began building guitars alone in his 35 square meter workshop in 1995. Today, Juha and his skillful team of luthiers make about 120 unique guitars a year in their facility of 350 square meters in the beautiful old Harviala Manor surroundings.
"I am fortunate to have now a handful of skilled craftsmen beside me. Together we stand strong against the tide of the massive guitar industry that sells more in a day than we are able to build within a year. Their main interest is the shareholders profit, whereas for us this is purely a labour of love." – Juha Ruokangas
For more detailed info on the team and Juha's philosophy on Guitar building, click here.
Definitely check out the detailed Video diary for some insight into the design and build process. Here is Episode One.
If you would like to place a custom order for an instrument, Please feel free to email me anytime with ideas/specs. You can also utilize this great Guitar Creator app to build your dream guitar and simply pass along the spec's to us to get it on order for you.