Honolua Ukuleles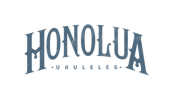 The story of Honolua Ukuleles starts in Calgary, Alberta, Canada.
For over a decade, Dave Simpson had worked in music stores, and watched the resurgence of the ukulele. It makes sense. In his experience, most people fall into two categories: those who play an instrument, and those who want to play an instrument. There's a whole lot to love about the idea of a small, portable, warm sounding, inexpensive, easy on the fingers, simpler lookalike to a guitar. He saw companies building a toy version of a ukulele, and customers getting frustrated with their toys. Dave felt that this is music and these folks deserved better than a toy.
Honolua design real instruments. Instruments that are meant to be played. That are meant to inspire creation and singalongs. They focus on the construction components that will provide the best sound and use solid wood tops so the instrument can project. Bone nuts and saddles are used so the instrument will resonate. High quality tuning heads let you spend your time playing instead of tuning. The goal was to design carefully to produce the best possible ukulele at an affordable price because anyone that wants to play music to do so on a real instrument.
The brand is named for Honolua Bay, on the west side of Maui, where Dave's personal love of ukulele was formed. We celebrate the ukulele and look forward to helping people play more music.