Creepy Fingers Effects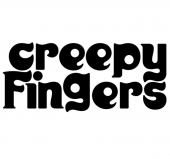 DESIGNED AND BUILT BY Long-time FU MANCHU BASSIST Brad Davis, Creepy Fingers effects sport killer silk-screened metalflake enclosures and bulletproof, handwired construction. Now given how huge a fan I am of the band, I might have considered carrying these just because...
Well, having had the chance to play thru' them all, my opinion of the pedals is similar to my opinion of the band. They are among the very best of their genre! I have been hoping for a line of pedals to cover the super high-end, Point-to-Point hand-wired, mojo-parts fuzz-type stuff that I have been missing here for some time. Creepy Fingers is all that and much, much more!