Bartel Amplifiers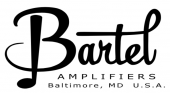 Bartel Amplifiers is devoted to creating innovative masterbuilt guitar amplifiers with the ultimate in tonal refinement and crafstmanship. Each amplifier is entirely built by designer Mark Bartel at his Baltimore, MD craft shop. The product of 30 years of experience in amplifier design and construction, Bartel Amplifiers offer unparalleled craftsmanship, innovation, and artistry.
Mark Bartel is probably best known as the founder of Tone King Amplifiers. Prior to starting Tone King, he had been involved with a number of interests such as electrical engineering, fine woodworking, electronic assembly, hi-fi, critical listening, and guitar playing which all contributed to his eventual efforts in designing guitar amplifiers.
**Please feel free to contact us for custom order options for Combos or Heads/cabinets.