Ones that Got Away!!!
Here are a few of my favourite things that i have parted with over the years.  In other words, here is the regrets section :(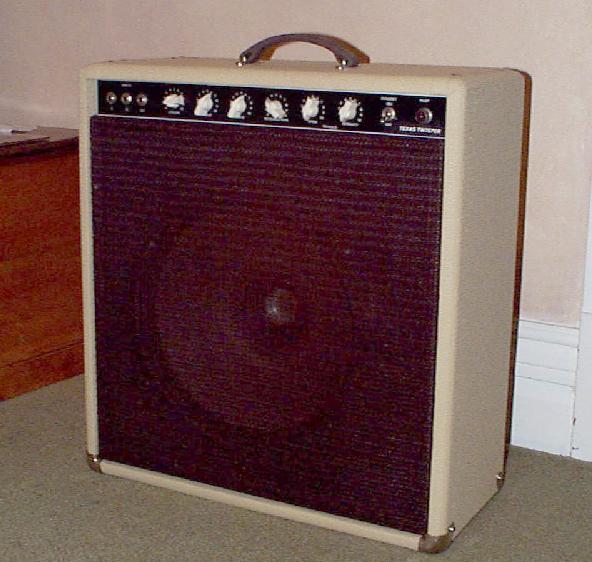 I sold my Custom-made Templeton Texas Twister Combo Amp (John names them instead of serial #'ing them, cool eh!!!) to one of my favourite customers recently.  At least I know he went to a good home.  
Earl was a killer amp with a single 15" and sweet reverb and tremolo.  At low and medium volumes, it was very fender-y.  At high volumes thru' any 8 ohm 2x12" cab, it was a marshall killer.  The fellow who built Earl is a fantastic Tube Amp tech and all-around nice guy.  If you ever need anything restored, re-tweeded or re-tolexed, John is the man.  If you wish to contact him, please email me and i will pass along your email to him.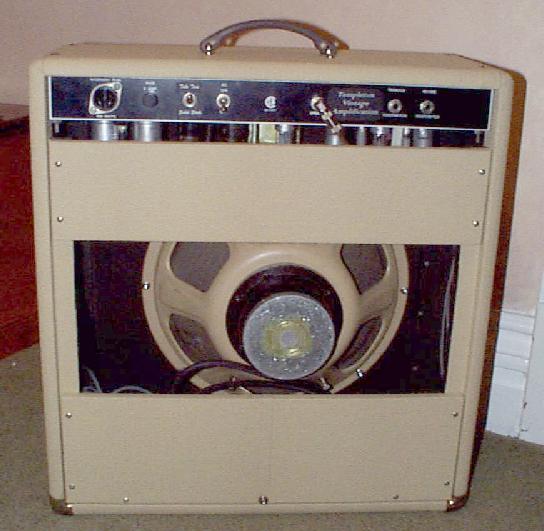 My Mainstay rig for years was a MESA Triaxis Preamp/MESA 2:90 Power Amp thru' an older HIWATT Cab loaded with 150w Celestion Sidewinders.  This thing had an endless array of easy to dial in sounds and was somewhat LOUDER than HELL.  At least I still have the Hiwatt Cab :-)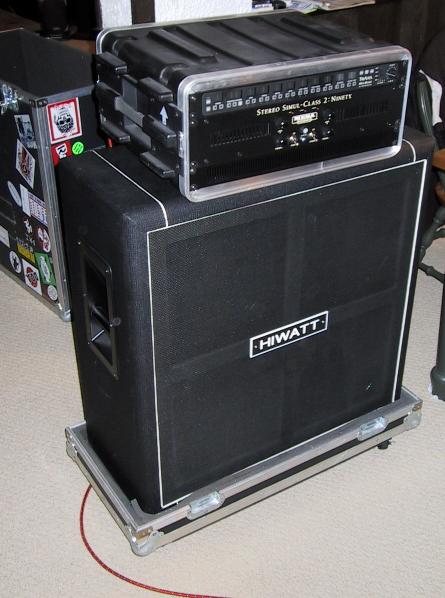 One of my absolute favourite guitars was a fantastic '58 Les Paul Standard Flame-top Replica made by a group of fantastic luthiers that must remain unknown due to Gibson's incredible legal power. It was amazing, probably one of the finest instruments i have played. It has a moderately flamed maple top with a Korina (instead of Mahogany) Body, Braz. Rosewood fingerboard etc.  It was fantastic and only weighs about 7 or 8 pounds.  I originally traded my wife's 1979 Volvo Sedan for it.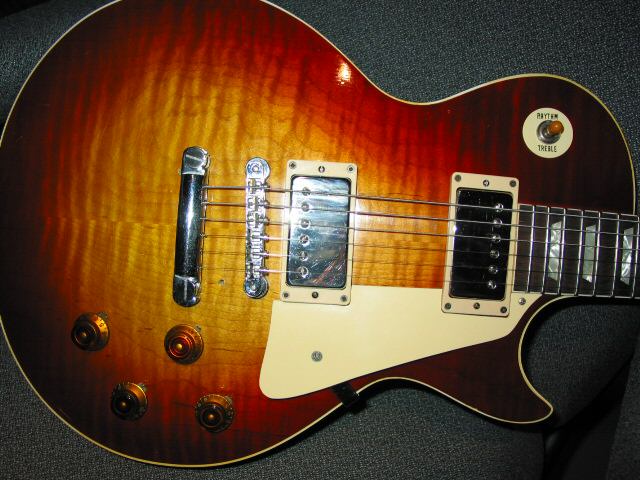 How kool is this!  A matching Hammertone Mandoguitar that looks surprisingly like my Les Paul. It is now with the Band, Snack!

This See-thru' Green Hammertone strat/tele hybrid is an entirely hand-made custom guitar that I was lucky enough to own for awhile. My buddies at the Guitar Clinic built it. It has a Brazillian Rosewood fingerboard and a highly figured ash body. The Tele-style neck is real nice birdeye maple.  Sperzel locking tuners, Fender repro pickups and gold hardware.  It now resides with the fellow from the popular band, Big Wreck: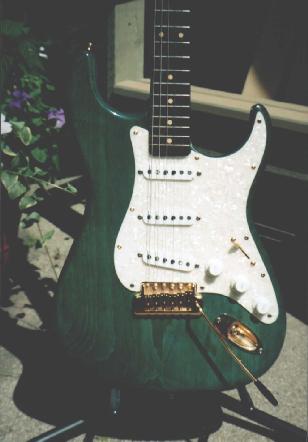 Here is the above guitar's mate in telecaster form (also long gone).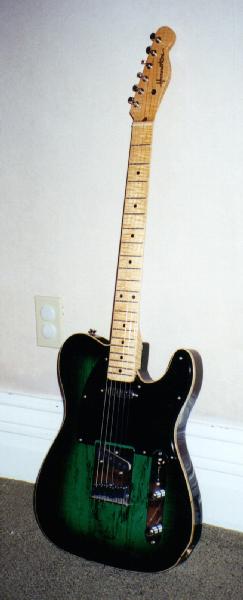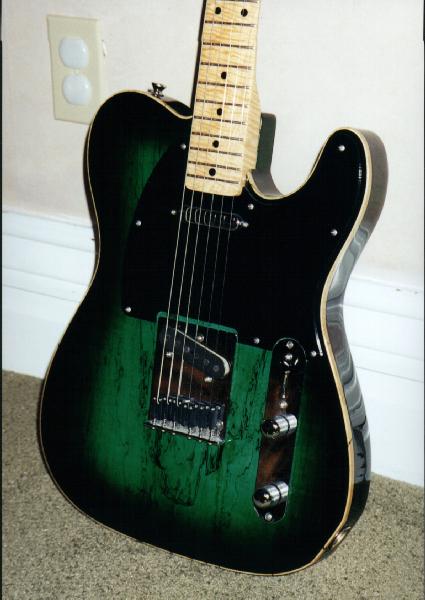 This unreal replica of a NOS 1960 Strat was also among my Favourites.  The Guitar Clinic also played a large part in it's creation.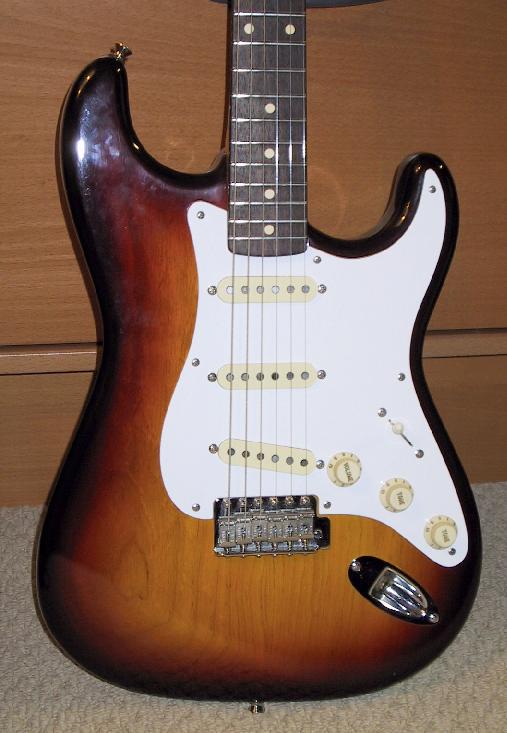 I also traded away these really kool contraptions that Todd Hawes put together.  All three were really killer axes.  ARRRGGGHH!!: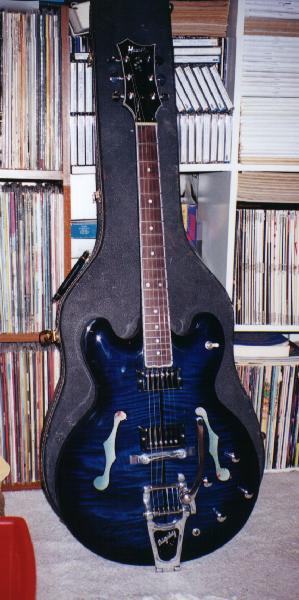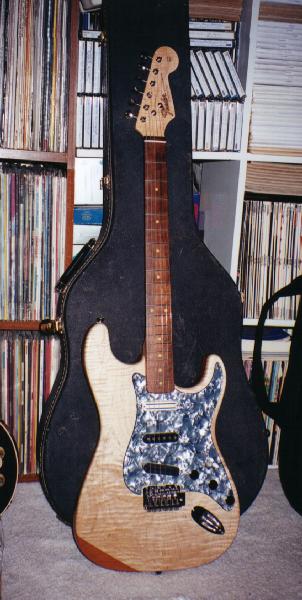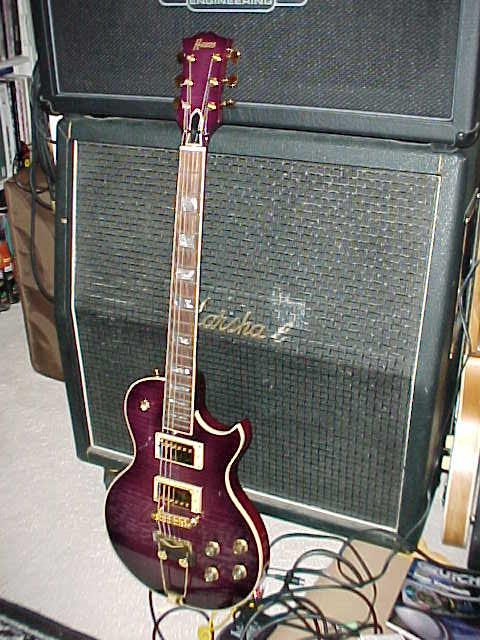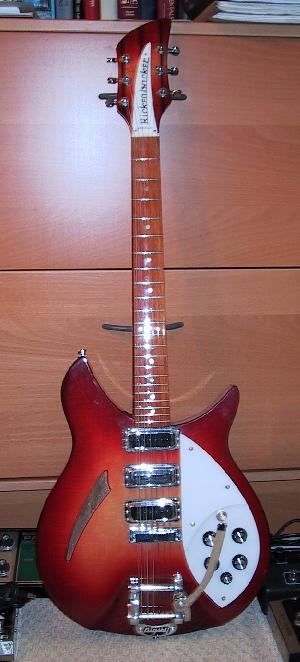 Here are some of the more wacky things i have owned.   Believe it or not, these were remarkably toneful and playable guitars:



I used to own an insane number of amazing Ibanez guitars including a real nice vintage Ibanez Rocket Roll Flying V replica and a whole stable of Ibanez Artists, but sold a bunch of them around the arrival of my beautiful baby boys.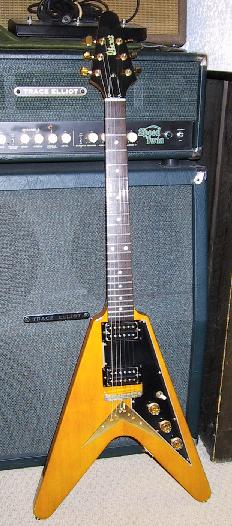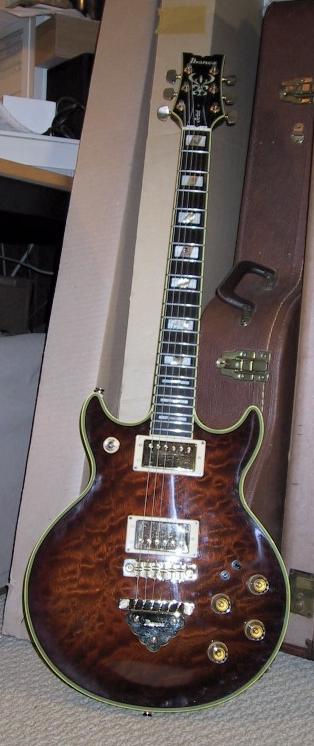 Here is a picture showing a couple of them amongst the clutter: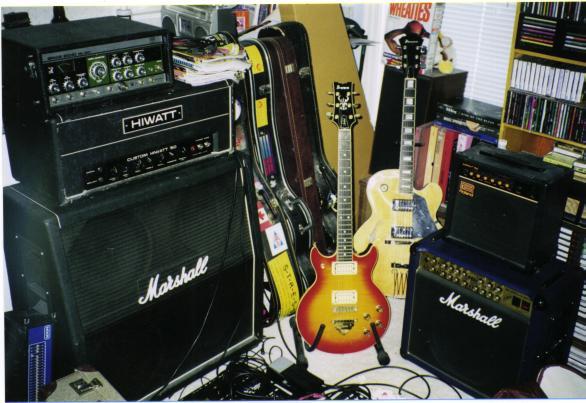 Around the same time, i cut loose one of my many Tokai Strats.  This one was one of the finest strats i have ever played.  It now resides with a relatively unknown-to-the-public session player named Matte Henderson.  Matte is an amazing player, who is very highly regarded by those in the know.  If you listen to music, you have heard Matte somewhere on Radio or TV.  He is one of the celeb programmers for the Eventide line of Effects units and has deals with Baker Guitars and Stevens Guitars!!!  Oh yeah...did i mention that he is a all-around great guy.  Also pictured is a '66 Tele w/ B-bender etc. that i guess just didn't fit my "fast!!!loud!!!rules!!!" persona (in other words, i have a hard enough time playing without a bunch of levers to monkey with!!!).  It was none-the-less an incredible guitar with an aged shoreline gold refin courtesy of Mike Spicer of the Guitar Clinic: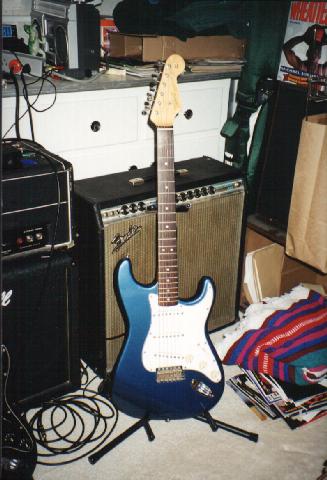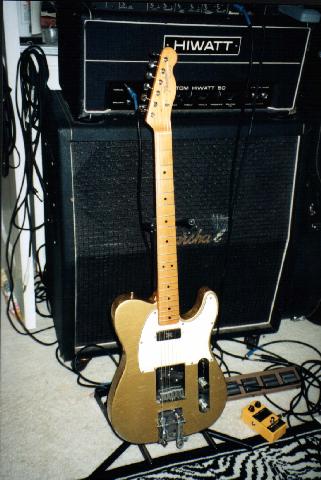 Fender Deluxe (1961):
I recently divested myself of my stable of older Brown Fender Amps.  I just was not using them enough to justify their presence in my gear dungeon.  Here are some shots of my incredibly mint 1961 Princeton and 1961 Deluxe (complete with original Victoria Luggage company cover!!!).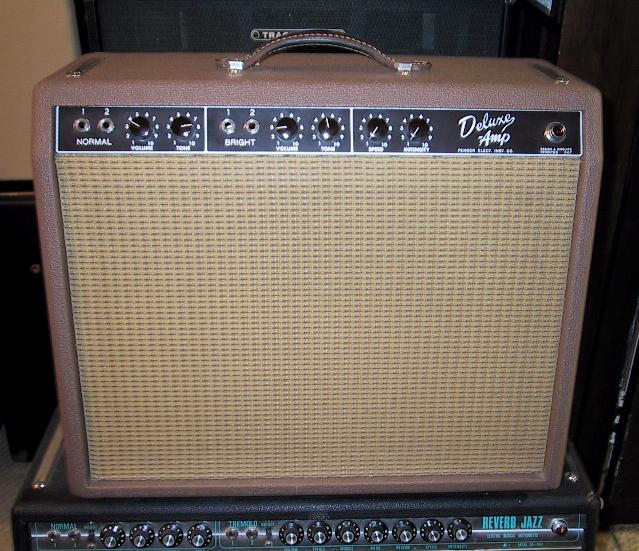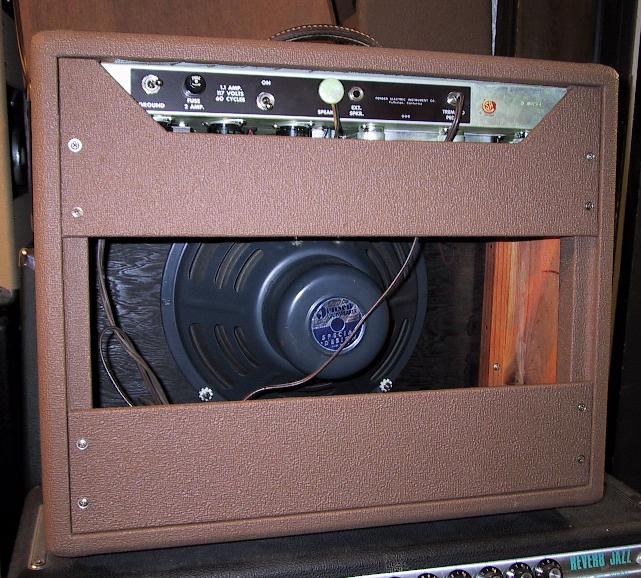 Fender Princeton (1961):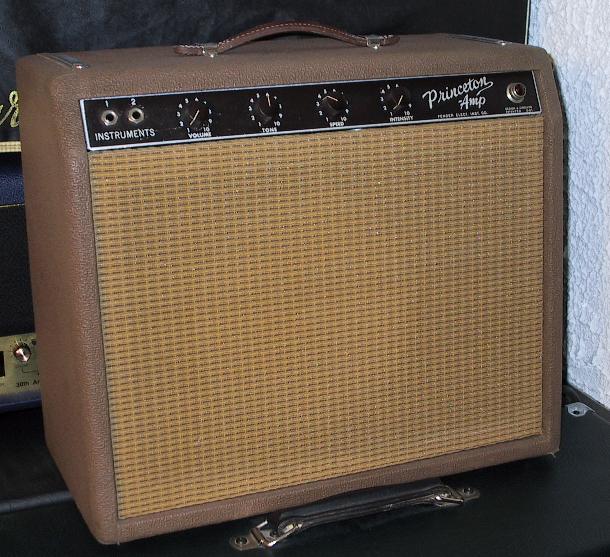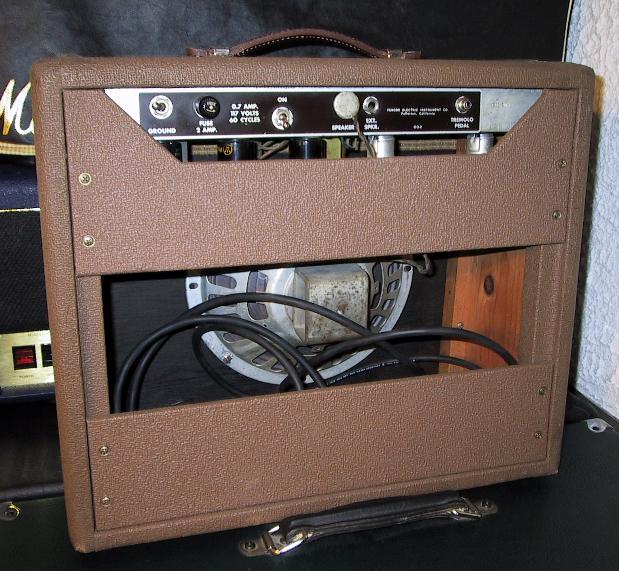 Fender Reverb (1961):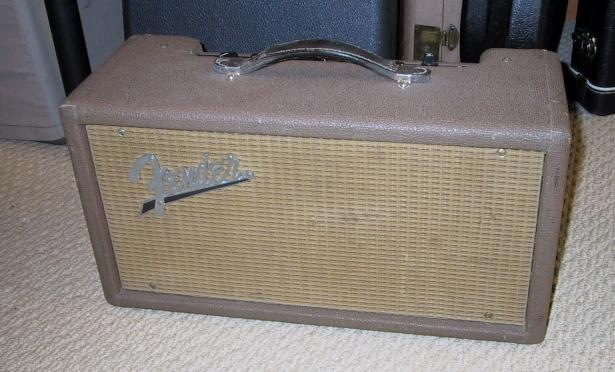 Somewhat foolish to sell this one as well, a really fine example of the '64 blackface Super Reverb.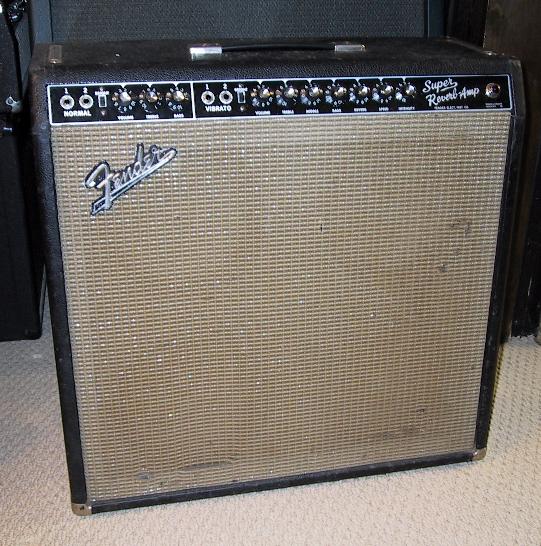 The ultimate Punk rock Bass!!! a fantastic '65 Jazzmaster, the Ultimate Slide Machine P90-modded Duosonic and a very bizarre Teisco.